Originally published as a two part series in ShareCafe (Source: here)
Having established why Credit Corp has been such a tremendous performer over the past 17 years, let's now turn our attention to a company that we believe is capable of emulating at least some of that success.
To begin with, in the listed collectables space, the alternatives to Credit Corp are Collection House Limited (CLH) and Pioneer Credit Limited (PNC), so we're not fishing in a deep pool. But as we have seen from Credit Corp, this is a lucrative niche if executed well. Not surprisingly then, we see potential upside in both competitors, however it is Pioneer Credit that has attracted our particular interest at this time.
Pioneer Credit listed on the ASX in May 2014 at an issue price of $1.60 per share. The company is headquartered in Perth, Western Australia and has a customer service centre in Manila, in the Philippines.
The founder and MD of Pioneer – Mr Keith John – has extensive experience in the receivables management industry, a journey he commenced in 1988. And this is where the analogy to Credit Corp gains some credence. Prior to the listing of Pioneer Credit, Mr John actually sold his business – then known as Pioneer Credit Management Services Pty Ltd – to none other than Credit Corp in July 2006. At that stage Pioneer had 65 full time staff.
In the ASX Release which accompanied the acquisition, the then MD of Credit Corp Mr Geoff Lucas stated:
"Managing Director Keith John is a highly regarded Executive in the industry and he has built an organisation with an exceptional reputation and a culture closely matching our own. …Keith has successfully built Pioneer Credit into one of Australia's leading private recovery firms.'
Mr John's services were in high demand by Credit Corp and he became part of the Senior Management Team, taking on the role of Head of Strategic Business.
In January 2007, Mr John then sold a second business – Pioneer Credit Malaysia – once again to none other than Credit Corp.
Mr John worked at Credit Corp until late 2007 at which time he resigned and spent some time with his young family. Mr John re-purchased parts of the business in 2009 and in doing so, Pioneer Credit as we know it today was re-born.
In re-establishing Pioneer, Mr John has once again focussed on building a strong corporate culture. This is evident at all levels of the organisation from the CFO Mr Leslie Crockett to COO Ms Lisa Stedman right down to the teams on the floor that assist clients to rehabilitate their credit status.
And importantly, the Board of Directors is one of the highest calibre Boards we have encountered for a company of this size. Rob Bransby, Mark Dutton and Andrea Hall are all experienced, highly reputable directors in their own right. The Chairman Mr Michael Smith epitomises leadership and integrity, as demonstrated during his tenure as Chairman of iiNet. Mr Smith's approach is typified by the opening paragraphs in the Chairman's Letter from the 2014 Prospectus:
"My experience as a director and investor have made me cautious. My time as a Chairman has given me a deep sense of responsibility to shareholders. I have learned that even the best credentialed companies can have uneven earnings.
My focus then has been on making careful choices based on the quality of the executive team, a business idea that has the ability to provide value to customers and a cost base that makes for efficiency supported by a value rich culture that is authentic and energising.
The decision to accept this role as Chairman of Pioneer was made carefully with regard to all of these factors."
Now there's a Chairman you can back!
Since listing, Pioneer Credit has emulated the approach of the best companies, by under-promising and over-delivering. In the 2014 Prospectus, Pioneer forecast substantial revenue and earnings growth, which many believed were unachievable. In the fullness of time, they not only met but exceeded each of these outcomes.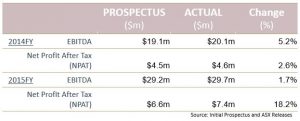 Whilst these beats are only modest, the key here is that Pioneer's growth to achieve these numbers was extraordinary.  In fact from 2013 to 2017 (forecast), Net Profit After Tax has grown at 30% per annum.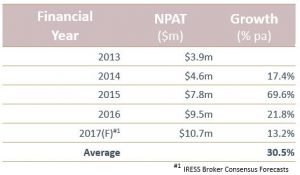 And this is at the core of the comparison with Credit Corp, whose ultimate success has come from strong earnings growth compounding on itself year after year.
As Albert Einstein said 'The most powerful force in the universe is compound interest.'    In the case of investing, the most powerful force is compound earnings.  A spectacular one off increase in earnings is great, but to see a share price grow to the extent that Credit Corp has, we need high earnings growth compounding on itself year after year.
A Katana Asset Management whitepaper by Romano Sala Tenna (Fund Manager).