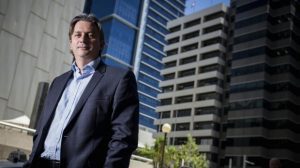 Romano Sala Tenna of Katana Asset Management says his fund is sitting high on cash, waiting for the macroeconomic storm clouds of low global growth and inflation to pass. Photo: Tony McDonough
Low interest rates are making life miserable for cash holders, but investors are still holding it at high levels, bracing for volatility in the next few months.
Romano Sala Tenna, a portfolio manager at Perth-based Katana Asset Management said in recent meetings with east coast fund managers and financial advisers, the common theme was that most were sitting on close to their maximum weightings in cash, despite the official cash rate sitting at a record low 1.75 per cent after the Reserve Bank of Australia cut in May.
Investors have a growing awareness of macroeconomic events than before the global financial crisis, he said, which led to a rise in volatility – and fear.
"We see globally there are some really nasty storm clouds overhead, with the exception of the US," he said.
He said while January seemed like a distant memory after two solid months of gains, sharemarkets endured their worst start to the year on record.
Extra cash
The volatility that has been a feature of the past 12 months has reinforced the thesis among investors that they should be sitting on extra cash.
"Notwithstanding the last two months have been strong, but if you look on a 12-month rolling basis, the market is still well below where it was 12 months ago," he said.
The S&P/ASX 200 on June 1 last year was around 5700 points, and is now around 5300, meaning against the benchmark, cash has outperformed.
Katana too is sitting at its maximum cash allocation, but if the seasonally weak months for shares – May through September – fail to dampen investor spirits, and the global macroeconomic spectres of low inflation and economic growth materialise, Mr Sala Tenna said his fund would reconsider their position.
"To date we've been able to hide in cash, but it's going to get harder if the market continues to turn [higher]," he said