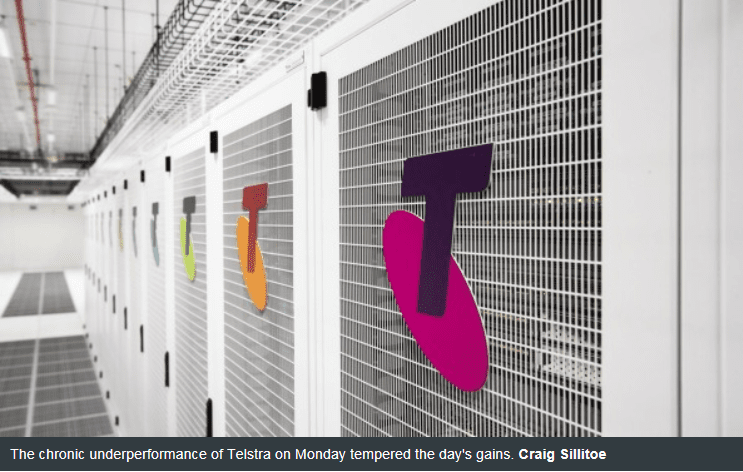 A buoyant start to the week on the Australian sharemarket sagged to a weak finish, as investors mulled their positions ahead of a big week for central bank meetings and bank profit results.
The index reached an intraday high of 5384 early, as futures contracts suggested the sharemarket could recoup the year's losses, but the chronic underperformance of Telstra and a pullback in Macquarie ultimately tempered the day's gains.
On Monday, the benchmark S&P/ASX 200 finished four points, 0.07 per cent, lower at 5348. The broader All Ordinaries closed two points, 0.03 per cent, lower at 5386.3.
A positive tone was set on Monday following strong gains on Wall Street and Europe over the weekend.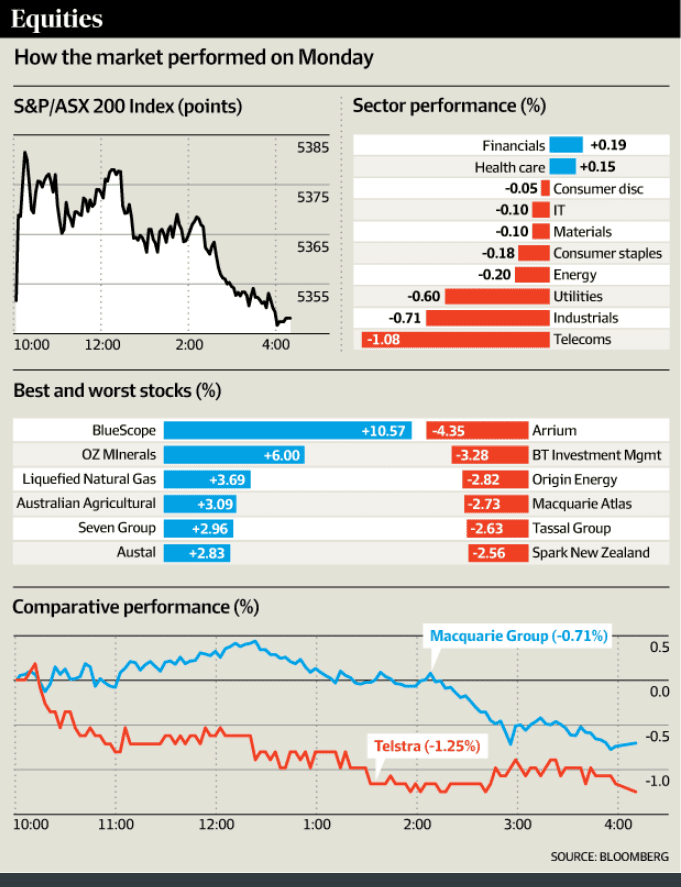 Investors' renewed appetite for risk was amplified last week after European Central Bank president Mario Draghi hinted at more stimulus before the end of the year. China followed the easy-money talk on Friday after it cut interest rates for the sixth time this year in a bid to kickstart its slowing economy.
But key meetings of the US Federal Open Markets Committee, the Bank of Japan, as well as full-year profit results from ANZ Banking Group, National Australia Bank and interim results from Macquarie Group made for an uncertain mix, Saxo Capital Markets sales trader James Kim said.
Banks lack strength
"Telstra is definitely weighing on the index as a whole, but it's the lack of strength in the banks that has Australia underperforming today [against Asia]," he said.
The big four banks had a mixed day. Commonwealth Bank of Australia closed 0.2 per cent higher at $77.50, Westpac Banking Corporation was the best of the bunch at 0.9 per cent higher to $31.84, National Australia Bank closed slightly down, 0.06 per cent lower to $32.42 while ANZ Banking Group ended flat at $28.90.
Katana Asset Management portfolio manager Romano Sala Tenna said as three of the major banks prepared to go ex-dividend in November, major sell-offs were unlikely, but ahead of the results announcements the buying would also be limited.
Telstra's share price meanwhile fell 1.25 per cent to $5.51 and led the telcos index to the day's worst performer.
"The price action on Telstra is problematic, we have lightened our position there, it is not behaving as it should on strong days," Mr Sala Tenna said.
Some of the recent falls may be attributed to the sentiment towards riskier stocks, resulting in the defensives including Telstra losing some of their appeal, he said.
Macquarie meanwhile finished the day in the red, falling 0.7 per cent to $82.65. Mr Kim said the day's weakness was a sign that investors were being cautious and that the stock was showing signs after being overbought after a steady stream of buying following its acquisition of ANZ's Esanda business.
Of the other blue chips, Woolworths rose 0.1 per cent to $27.84, while Wesfarmers fell 0.6 per cent.
BHP Billiton fell 0.1 per cent to $24.57 while Rio Tinto climbed 0.8 per cent to $53.81.
Bluescope was the day's winner after the NSW government said it would defer $60 million in payroll taxes to help keep the Port Kembla steel plant operating. Its share price climbed 11 per cent to $4.50.
Junior miner Arrium fell the most on Monday, down 4.35 per cent to 11¢.
Mr Kim said he expected the cautious tone to continue this week and noted historically the last week in October was weak on Wall Street, which could result in some poor leads.
"Until the FOMC meeting [on Thursday] we may just be on the back foot, given the strength we have seen in the recent weeks," Mr Kim said.