Published on FE Investment Centre 31/10/2018 (Original Article Here)
Australian equity manager Katana Asset Management has had its Australian Equity Fund upgraded to 4 stars by SQM Research.
The fund is a benchmark-unaware, long-only portfolio that seeks to outperform the ASX All Ordinaries Accumulation Index.
"We are very pleased with the upgrade to four stars. This outcome is great recognition for the work the team has put in to managing the portfolio and focusing on get the best possible outcome for our investors," said Romano Sala Tenna, portfolio manager at Katana.
The Katana Australian Equity Fund provided investors with a 20.27 per cent return in the 12 months to 30 September, outperforming its benchmark by 5.59 per cent.
Sala Tenna said he was particularly happy that SQM Research recognised the low volatility of the fund compared to the market and its peer group.
"Performance tables very rarely show the quality of the return, but for us, generating strong risk-adjusted returns are paramount," he said.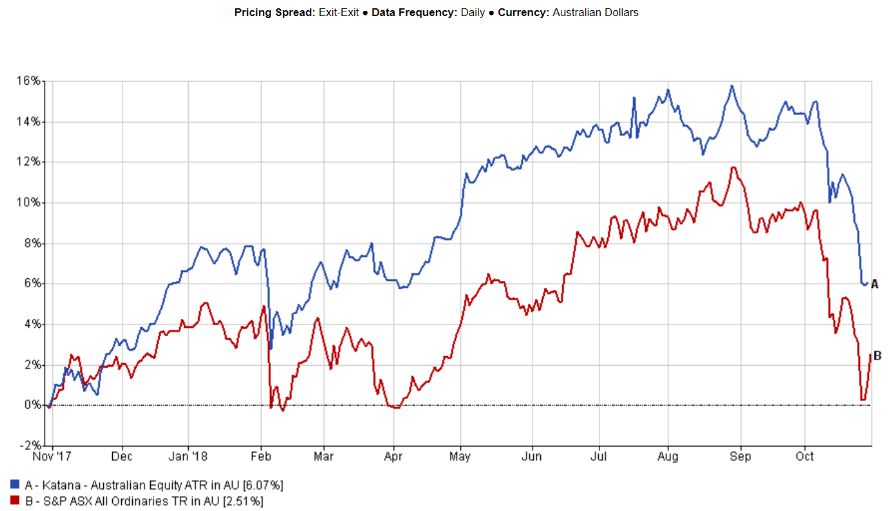 The rating contained in this document is issued by SQM Research Pty Ltd ABN 93 122 592 036. SQM Research is an investment research firm that undertakes research on investment products exclusively for its wholesale clients, utilising a proprietary review and star rating system. The SQM Research star rating system is of a general nature and does not take into account the particular circumstances or needs of any specific person. The rating may be subject to change at any time. Only licensed financial advisers may use the SQM Research star rating system in determining whether an investment is appropriate to a person's particular circumstances or needs. You should read the product disclosure statement and consult a licensed financial adviser before making an investment decision in relation to this investment product. SQM Research receives a fee from the Fund Manager for the research and rating of the managed investment scheme.