Further falls in the big banks and weakness in the major supermarket owners overwhelmed solid gains in energy and mining stocks to drive shares lower on Monday.
A positive weekend lead from Wall Street led the S&P/ASX 200 to open higher at the start of trade, but gains quickly evaporated, with the major lenders, Woolworths and Wesfarmers to blame.
Despite briefly moving into positive territory in late afternoon trade, the benchmark index closed down 6 points or 0.1 per cent lower to 4931.5, while the All Ordinaries fell 5 points or 0.1 per cent to 5013.2.
The biggest lift in the market came from the energy sector, which added 1.6 per cent after Brent crude oil prices surged 6 per cent over the weekend, although it eased on Monday. BHP Billiton helped buoy the market as it climbed 2.3 per cent to $16.55. Origin Energy rose 4 per cent to $4.65 and Oil Search rose 2.3 per cent to $6.60.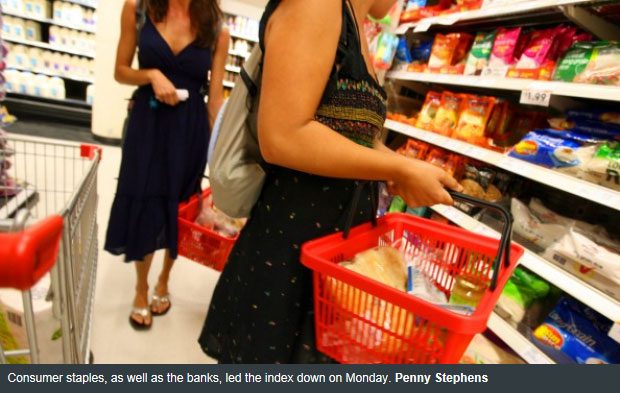 "There's been a little bit more positive rhetoric from four of five players ahead of the oil producers' meeting [this coming weekend]," Katana Asset Management portfolio manager Romano Sala Tenna said, adding to hopes of a production cut.
Rig counts in the US falling by 8 to 354 and a larger than expected drawdown in US crude oil supplies have improved the fundamentals for the oil market, he said.
"Demand has increased quite dramatically as well."
The miners enjoyed a largely positive day. Rio Tinto rose 2.4 per cent to $44.28 while Fortescue Metals Group added 7.1 per cent to $2.85.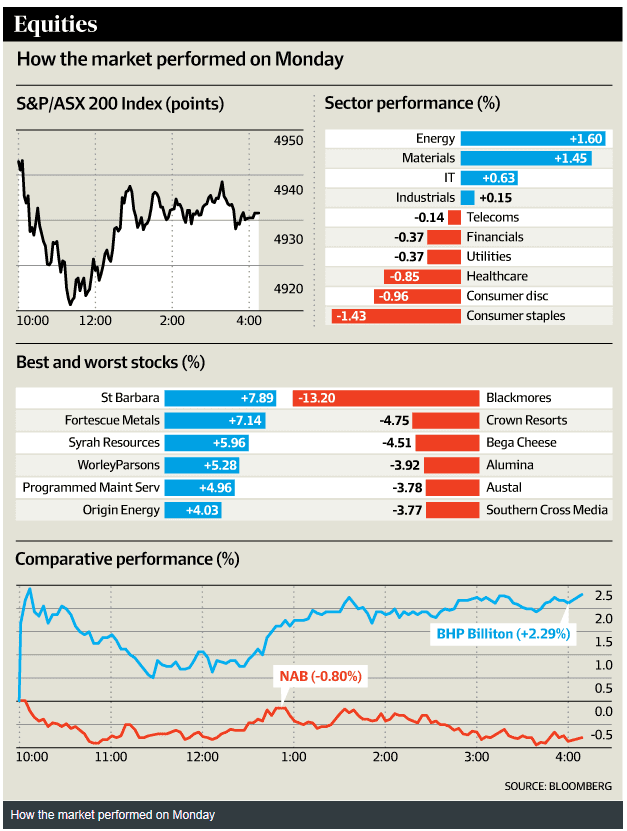 But the banks remain trapped by negative sentiment. National Australia Bank fell the most, down 0.8 per cent to $24.93. ANZ Banking Group fell 0.1 per cent to $22.25, Westpac Banking Corporation fell 0.4 per cent to $28.42 and Commonwealth Bank of Australia fell 0.1 per cent to $70.70.
"Normally right now is a nice time to position yourself [in the banks], as three of the four banks pay their interim dividend in the second week of May," Mr Sala Tenna said.
"This time around there's more nervousness regarding what the banks may reveal. Investors are definitely sitting on the sidelines," he said.
"At the moment, caution is the order of the day."
Across the sectors consumer staples was the worst performing corner of the market, down 1.4 per cent, led by Woolworths which fell 1.5 per cent to $20.82 and Wesfarmers, which drooped 0.8 per cent to $40.02.
Meanwhile, Telstra fell 0.2 per cent to $5.15.
Blackmores was the top 200's worst performing stock by a clear margin,after it plunged13.2 per cent to $176.96. It came after news that Chinese authorities flagged it would impose tighter regulations on foreign goods purchased over the internet. Bega Cheese also fell, dropping 4.5 per cent to $5.72.
The day's best performing stock was gold explorer and producer St Barbara, enjoying a lift with fellow gold miners after the gold price continued its run, rising more than 2 per cent over the weekend to $US1249 an ounce.St Barbara closed up 7.9 per cent to $2.46, while Syrah Resources rose 6 per cent to $3.91. Newcrest Mining climbed 3.4 per cent to $18.13
"Our gold miners, on average, are generating strong [free cash flow], have improving balance sheets and are increasingly focused on exploration opportunities rather than cost out," noted UBS analyst James Brennan-Chong.
"In our view, short of a correction in the gold price or a surprise US rate rise, we expect gold equities to continue to perform well."
In company news, logistics software group WiseTech Global shares rose 16.1 per cent on its first day of listing on the ASX, giving it a market capitalisation of more than $1 billion. The company listed with an offer price of $3.35 a share and closed its first session at $3.89.