Published in AFR by Lucas Baird – AFR 11/10/19 (Original Source Link Here)
The Australian sharemarket staged a minor recovery over the past five trading days and advanced for the first week in three, correcting a wobbly start to October that saw it post the worst weekly loss since last November.
The S&P/ASX 200 Index advanced 59.7 points, or 0.9 per cent, on Friday to end the week at 6606.8. Friday's trading session extended the gains since Monday to 89 points, or 1.4 per cent.
A dour first week of October saw $57.3 billion wiped off the benchmark's value, and the recovery over the past five days was only enough to account for less than half of those losses.
Despite this, Katana Asset Management portfolio manager Romano Sala Tenna was confident that it would not take much longer for the index to recover fully.
"People have to take on more risk with low interest rates," he said. "They are turning to equity markets to get a better return on investment than they could by leaving that money in a term deposit or savings account."
Critical to any recovery, though, was the easing of trade war rhetoric, according to the fund manager, who lauded the performance of resources companies on Friday.
Shares in BHP Group rose 2.1 per cent to $35.82, Rio Tinto shot up 2.3 per cent to $89.97, Fortescue Metals Group rose 4.1 per cent to $8.81, Woodside Petroleum was up 1.1 per cent to $31.22, and BlueScope Steel advanced 3.7 per cent to $11.86.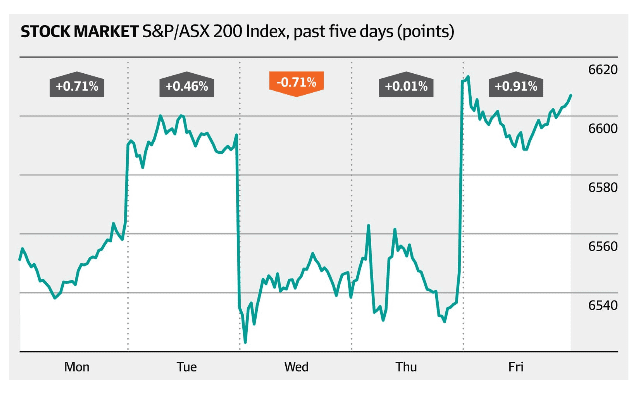 Mr Sala Tenna said this could be put down to a more optimistic outlook for international trade as senior diplomats from China and the United States meet in Washington to negotiate around their trade conflict.
"Resource companies are bouncing back on the hope that the worst of US President Donald Trump's trade war with China is behind us," he said.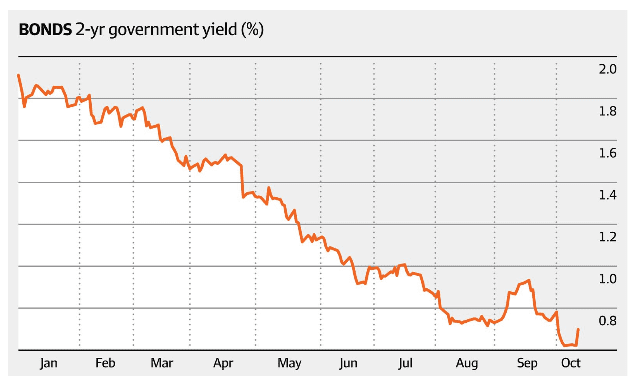 There were even hopes on Wall Street that the global superpowers would come to a partial deal after Mr Trump said he would meet Chinese Vice-Premier Liu He early on Friday (AEDT).
Dow futures rose 0.4 per cent to 26,579, S&P 500 futures were up 0.4 per cent to 2952.3, and Nasdaq futures progressed 0.5 per cent to 7800.8.Advertisement
The positive sentiment flowed through to crucial commodities as well. Oil prices rose 1 per cent to $US112.63 ($166.12) a barrel, and iron ore was fetching $US59.41 a tonne, up 0.5 per cent.
Gold prices rose 0.1 per cent to $US1495.33 an ounce, but Australian gold miners were unable to capitalise on the elevated prices.
Newcrest Mining slid 1.5 per cent to $35.25, Northern Star Resource shares were down 1.2 per cent to $11.85, Evolution Mining tumbled 1.5 per cent to $4.65, and Saracen Mining fell 1.3 per cent to $3.72.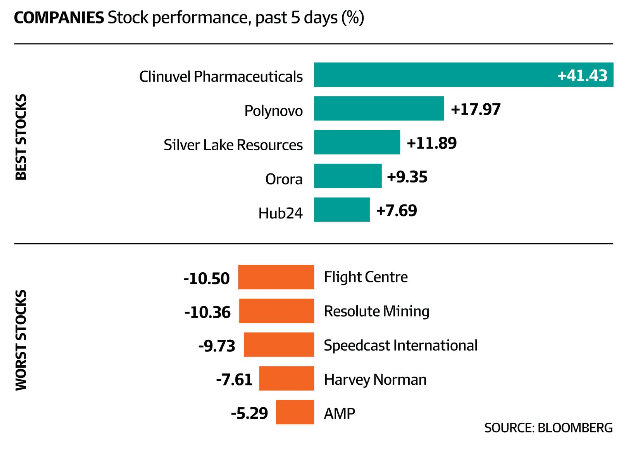 On the other hand, most of the index was in the green with the health sector one of the primary drivers of gains.
The health sector advanced 1.3 per cent with bio-pharmaceutical giant CSL, which increased 2 per cent to $244.45, leading the march.
Financials also had a strong Friday, with gains seen in each of the big four banks.
Commonwealth Bank was up 0.9 per cent to $78.77, ANZ Banking Group hiked 1.1 per cent to $27.49, Westpac rose 0.8 per cent to $28.75, and National Australia Bank was up 0.6 per cent to $28.20.Advertisement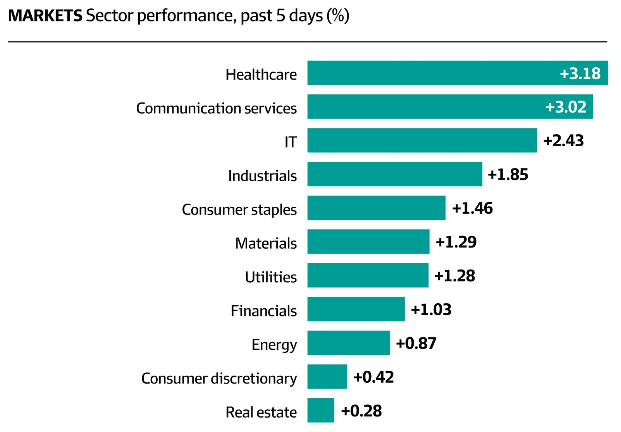 Macquarie Group and Insurance Australia Group were both up by about 2 per cent to $129.39 and $7.73, respectively.
Teleco giant Telstra advanced 1.7 per cent to $3.57 and Wesfarmers improved 0.8 per cent to $39.26.
Brambles, still riding the wave of a robust trading update released to the market mid-week, grew 1.8 per cent to $11.60.
Brambles had one of the better weeks in the market, rising 6 per cent, or adding 66¢, across the last five days.
Meanwhile, the Australian dollar was buying US67.8¢ on Friday afternoon after starting the week at US67.7¢, for an overall increase of 0.1 per cent.