The Australian sharemarket finished underwater on Wednesday as a global rally fizzled out on disappointing oil developments in a topsy-turvy trading day.
One of the biggest days of reporting season so far contributed to some big swings on the index before the market settled lower.
At close of trade the benchmark S&P/ASX 200 ended 29 points, or 0.6 per cent, lower at 4882.1. The broader All Ordinaries ended 23 points, or 0.5 per cent, lower at 4938.4.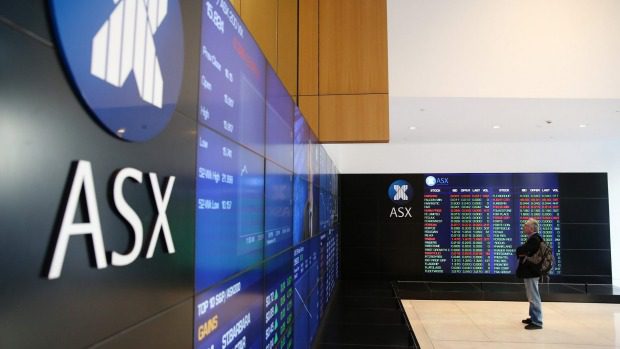 The afternoon slump came amid a weak day on the Asian region indices and falling Dow Jones futures, Katana Asset Management portfolio manager Romano Sala Tenna said.
But the day's moves reflected the characteristics of weak market sentiment, he said.
"We're seeing buying dissipate in dips and selling re-enter the fray in rallies."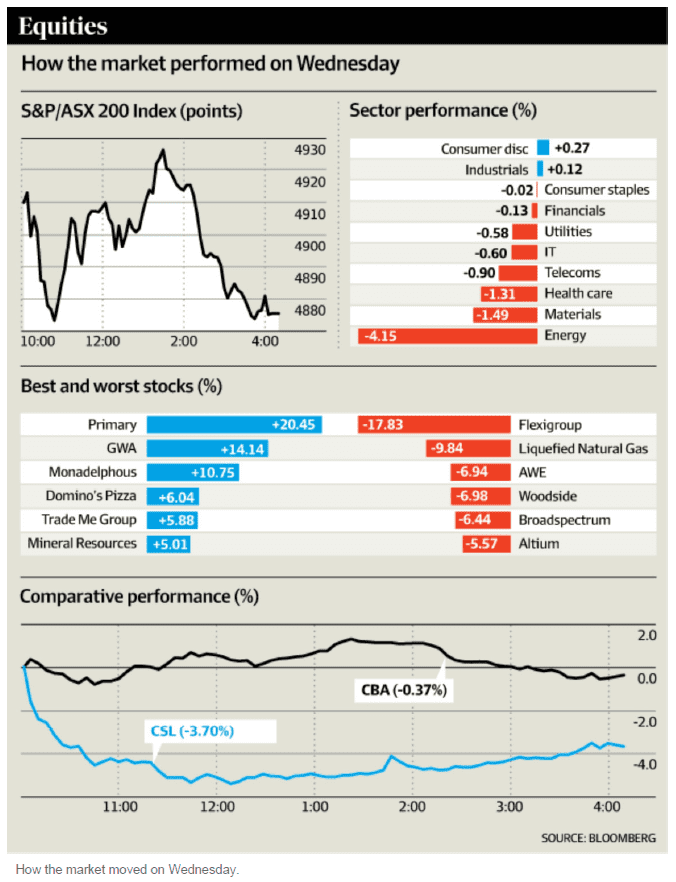 Overnight news that Saudi Arabia and Russia agreed to freeze oil production at its near-record January levels soured the market mood in Europe and in oil which had risen in anticipation of a cut.
But that two of the world's biggest oil producers, Saudi Arabia and Russia, had even met given geopolitical tension, particularly in Syria, was a significant step forward, Mr Sala Tenna said.
"Whether it is this week or in three months time it is alluding to the fact that a definitive deal will be done."
Significantly, the share price movement in Australian producers, including Beach Energy, Santos and Woodside Petroleum showed signs of a bottoming out, he said.
But on Wednesday the index was led down by mining and energy stocks, including Oil Search, down 3.8 per cent to $7.05, BHP Billiton, down 3.7 per cent to $15.98 and Rio Tinto, down 2.5 per cent to $42.11.
Woodside Petroleum fell 6.9 per cent to $27.49 after reporting its full year profit results, revealing writedowns on the oil slump has almost wiped profit, which fell 99 per cent to $US26 million.
Mr Sala Tenna said the results were promising, including the fact it had dropped cash break even costs to $11 a barrel or equivalent.
The big gainers for the day were the healthcare stocks, with the notable exception of CSL. CSL fell 3.7 per cent to $102.08. Sonic Healthcare rose 3.8 per cent to $18.81.
Primary Health Care was the day's best performing stock, up 20.5 per cent to $2.65 after its net profit rose 28.5 per cent to $68.6 million.
It was a mixed day for the bank stocks. National Australia Bank led the pack, up 2.16 per cent to $25.52, followed by Westpac Banking Corporation, up 0.7 per cent to $29.17. Commonwealth Bank of Australia lost 0.4 per cent to $72.33, while ANZ Banking Group fell 0.6 per cent to $23.14.
ANZ reported its first quarter cash profit rose 3.5 per cent to $1.85 billion on the previous corresponding period, slightly lower than analysts forecast, but said its exposure to volatile Asian markets had led to a deterioration in credit quality.
Other results included The Reject Shop, which posted its first profit growth in four years, sending its shares up 24 per cent to $2.50, and Coca-Cola Amatil which returned to profit growth for the first time in three years. Its shares rose 4.1 per cent to $8.80.
Insurer IAG's profit fell 12 per cent to $610 million, dragged lower by poor investment market returns. Its shares fell 1.3 per cent to $5.18.
But the worst performing stock was FlexiGroup, which fell 17.8 per cent to $2.12 despite reporting a 4 per cent first-half rise in cash profit to $44.3 million.
The consumer discretionary sub-index posted the best performance of the day, up 0.3 per cent helped by strong results and a profit guidance upgrade from Domino's Pizza Enterprises, which soared 6 per cent to $55.52.
Energy lagged the most, down 4.1 per cent for the day.