Published in AFR by Jessica Sier – AFR 30/10/17 (Original Source Link Here)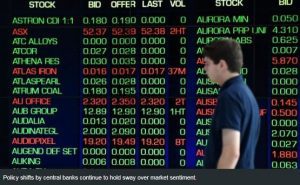 Shares enjoyed solid buying throughout Monday, largely boosted by investor appetite for most of the banks and energy stocks though Myer suffered some investor displeasure.
The benchmark S&P/ASX200 lifted 0.3 per cent higher to 5919.2 points and the broader All Ordinaries Index bumped up 0.2 per cent to 5983.7 points.
The Australian dollar traded at US76.75 cents after falling below the US77 cent mark last week for the first time since July.
Robust growth figures out of the United States last week reaffirmed the global view that the major economies are enjoying a synchronised upswing.
"Good global growth is good for the economy and therefore good for banks, so we're seeing that in the market direction," said Romano Sala Tenna, portfolio manager at Katana Asset Management.